Another Data Point of How Technology is Enabling the Massive Direct to Consumer (D2C) Trend
Source: Rolling Stone Published: April 2019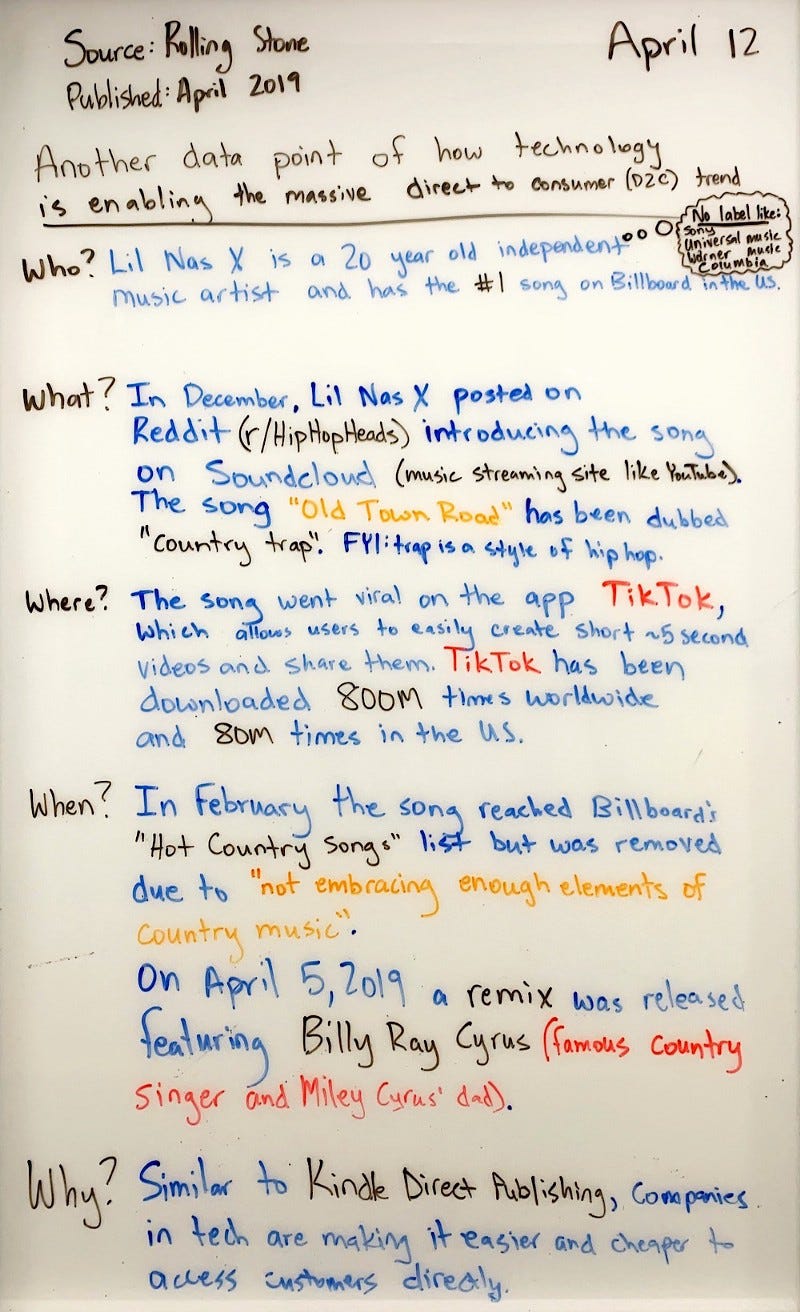 Source: Rolling Stone
Published: April 2019
Another Data Point of How Technology is Enabling on the Massive Direct to Customer (D2C) Trend
Circulated: April 12, 2019
Today's fact (while long) is a strong example of how creators and entrepreneurs are reaching customers without the typical institutional support (in this case record labels) that were previously a requirement. Other examples of the D2C trend include direct initial public offerings, Kindle Direct Publishing, and Twitch.
Who?
Lil Nas X (born Montero Lamar Hill) is a 20 year old independent music artist and has the #1 song on Billboard in the US.
What?
In December, Lil Nas X posted on Reddit (r/HipHopHeads) introducing the song: "My new song mixes trap and country. What do y'all think?" "Old Town Road" has been dubbed "cowboy trap."
Where?
The song went viral on the Chinese app TikTok, which is the destination for short-form mobile videos. TikTok has been downloaded 800M times worldwide and 80M times in the US.
When?
Viral country-rap single scaled the Hot 100 in just six weeks. As the song climbed the charts, Billboard removed it on "Hot Country Songs" due to "not embracing enough elements of today's country music". On April 5, 2019 a remix featured Billy Ray Cyrus (Miley's dad) was released.
Why?
The community created a challenge when hearing this song and the "Yeehaw Challenge" meme on media app TikTok was born. YouTube link to check out highlights here.