Discover more from Fact of the Day 1
My journey as a startup founder
Over 38,000 subscribers
How a Janitor at Frito-Lay Invented Flamin' Hot Cheetos
Source: The Hustle Published: November 2017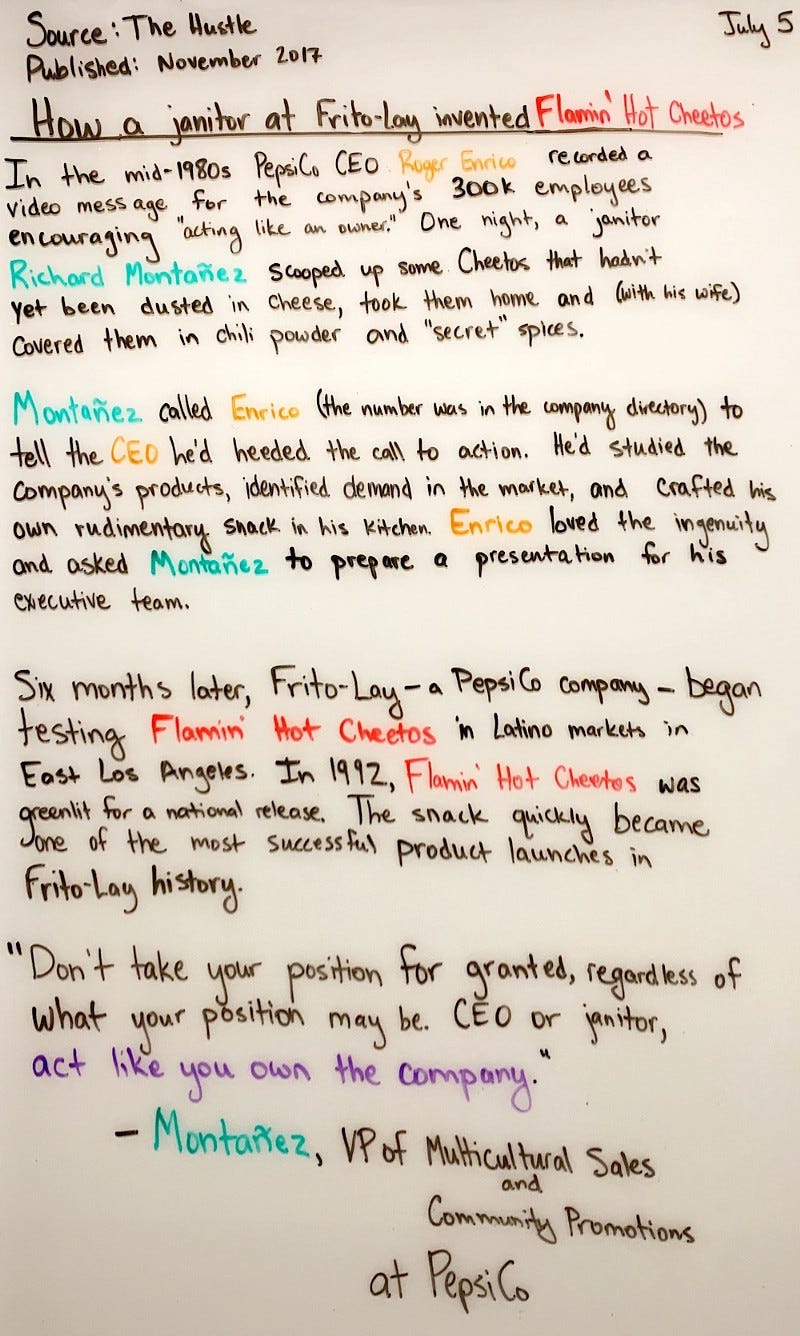 Source: The Hustle
Published: November 2017
How a Janitor at Frito-Lay Invented Flamin' Hot Cheetos
Circulated: July 5, 2019
In the mid-1980s, PepsiCo CEO Roger Enrico recorded a video message for the company's 300k employees encouraging "acting like an owner". One night, Richard Montañez — a janitor at Frito-Lay- scooped up some Cheetos that hadn't yet been dusted in cheese, took them home and (with his wife) covered them in chili powder and "secret" spices.

Montañez called Enrico (the number was in the company directory) to tell him he'd heeded the call to action. He'd studied the company's products, identified a demand in the market, and crafted his own rudimentary snack in his kitchen. Enrico loved the ingenuity and asked Montañez to prepare a presentation for his executive team.

Six months later, Frito-Lay began testing Flamin' Hot Cheetos in Latino markets in East Los Angeles. In 1992, Flamin' Hot Cheetos were greenlit for a national release. The snack quickly became one of the most successful product launches in Frito-Lay history.
"Don't take your position for granted, regardless of what that position may be. CEO or janitor, act like you own the company." — Richard Montañez, VP of Multicultural Sales & Community Promotions at PepsiCo