Discover more from Fact of the Day 1
My journey as a startup founder
Over 38,000 subscribers
How It All Began: Wolverine Crypto Trading
Who We Are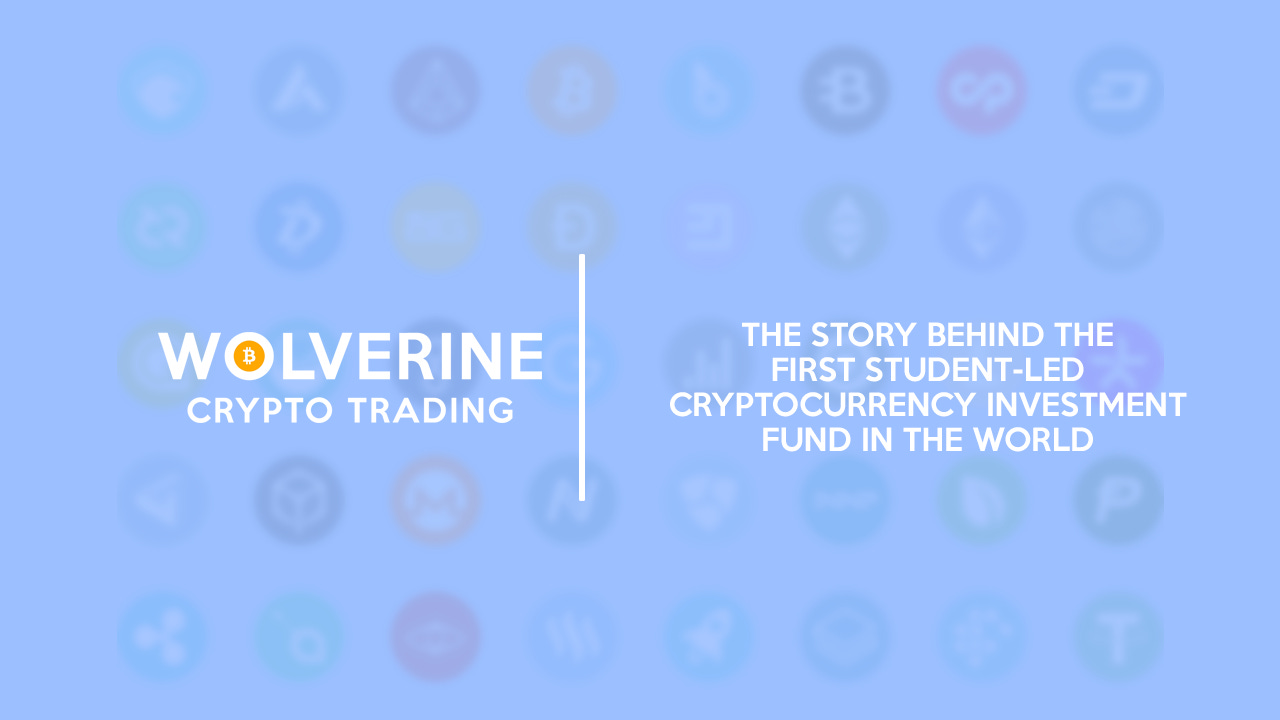 Who We Are
Wolverine Crypto Trading is a team of 16 University of Michigan students who research and invest in cryptocurrencies. Each member receives $1,000 from our fund to independently manage their portfolio using digital asset exchange Bittrex. Students keep 50% of their investment profits and are not penalized or liable for any losses. This is the first student-led cryptocurrency investment fund in the world. How did we do it?
The Journey
Let me start from the beginning. Wolverine Crypto Trading was an idea that stemmed from a conversation at Seigle Café at the Ross School of Business. While waiting in the cafeteria line, Danny Sheridan (BBA '18) noticed Rishi Prasad (BBA '20) wearing a t-shirt from a FinTech company he had interned at the previous summer. The conversation ended with a calendar invite to grab coffee.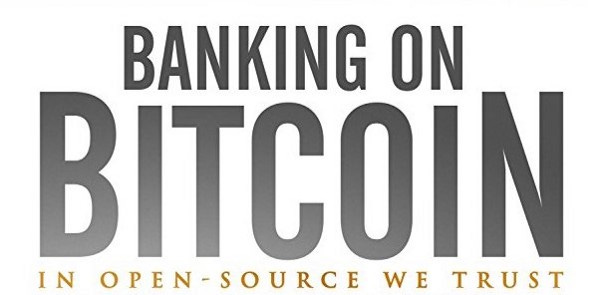 Voted 92% liked by Google users (November 2017)
Fast forward to our meeting a week later: we are at Dom's (the MBA hangout spot) discussing our interests in the world of FinTech. A few days prior, I had watched "Banking on Bitcoin" on Netflix, so cryptocurrency thoughts were running through my head.
We agreed that there needed to be a hands-on way for students to learn about cryptocurrencies and blockchain technology. Rishi explained that he founded Michigan FinTech (MFT) to be a source of education, career development and innovation around Financial Technology at the University of Michigan. Since its launch in September 2017, MFT developed a powerful network of 500+ students, professors, alumni and thought leaders passionate about engaging in the exciting and dynamic intersection between finance and technology.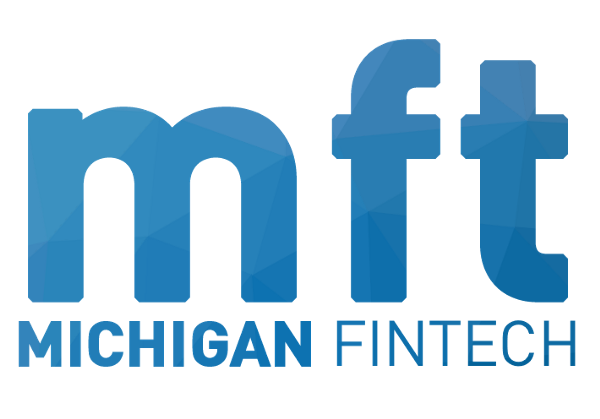 By partnering with leading FinTech companies, such as Coinbase, Clinc AI, and MoneyLion, hosting speaker/recruiting events, and running its own student blog, MFT is exposing Michigan students to the growing FinTech industry.
A Radical Idea is Born
Rishi and Danny went back and forth brainstorming about how to bring the world of cryptocurrencies and blockchain to Michigan students. We agreed we needed to create a first-of-its-kind, action-based learning experience where students didn't just read or think about learning, but instead were involved first-hand. To do this, we had to think outside the confines of how traditional student projects were created.
We settled on the idea of a student-led cryptocurrency investment fund where each student would be provided with their capital to manage — something that had never been done before. I decided to fund the project personally.
Danny: "How much should each student trade?"

Rishi: "$100 per student?"

Danny: "Not enough. How about $1,000?"

Rishi & Danny: "Perfect."
With the funding set and the idea planted, we agreed to start the search for motivated, curious students that were able to quickly absorb new information.
Execution
I built a website, www.WolverineCryptoTrading.com, while Rishi mocked up a logo. Together we began designing the application & interview process.

The first logo put together in a couple minutes as we moved quickly to launch Wolverine Crypto Trading
Two weeks later, we hosted a mass-meeting for students to learn more in-person. With over 60 students in attendance, excitement was in the air!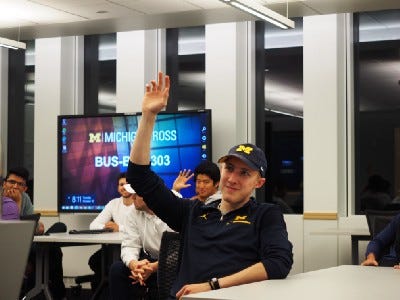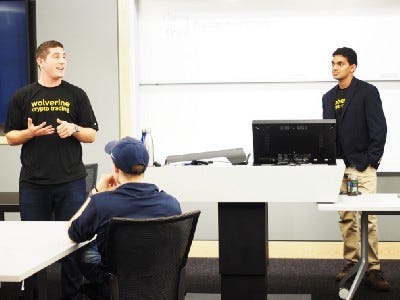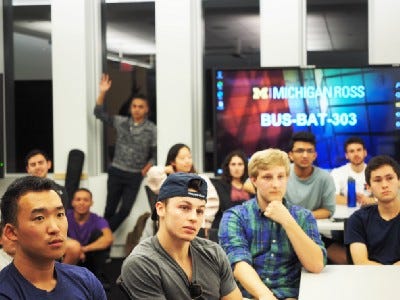 After the application deadline passed we were left with 100+ applications. We were thrilled to find interest from such a diverse group of people, across age groups (undergraduate and graduate students) and majors (e.g. business, computer science, data science, philosophy, economics, art history). For our first cohort, we focused on accepting solely undergraduate students.
We planned to initially accept 8–12 students, but were blown away by the sheer quantity of qualified, intelligent, and team-focused applications.
After inviting a third of the applicants to interview in-person for 15 minutes, we extended the offers. I was extremely appreciative and excited to work with the 15 other students who now are a part of Wolverine Crypto Trading. Like all great college moments, we celebrated by getting together for pizza!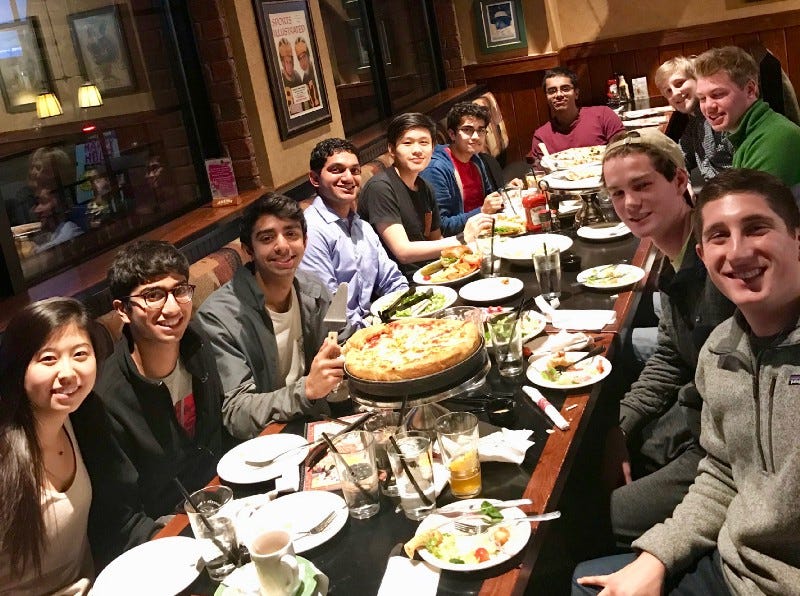 Pizza House team dinner to meet each other for the first time, October 2017
What We Do
1. Weekly Meetings comprised of two parts. (1) An educational presentation led by two members of the team (i.e. how are businesses implementing public and private blockchains into their business models?) and (2) book-club style discussion led by two members of the team (i.e. read "An Open Letter to Jamie Dimon" and prepare comments and questions)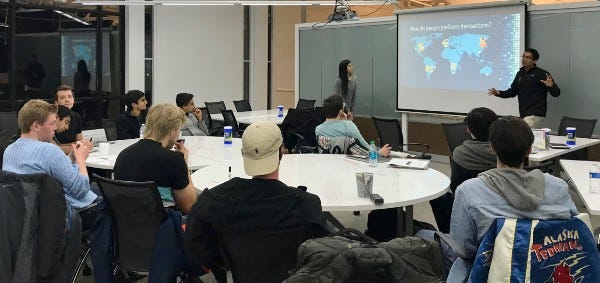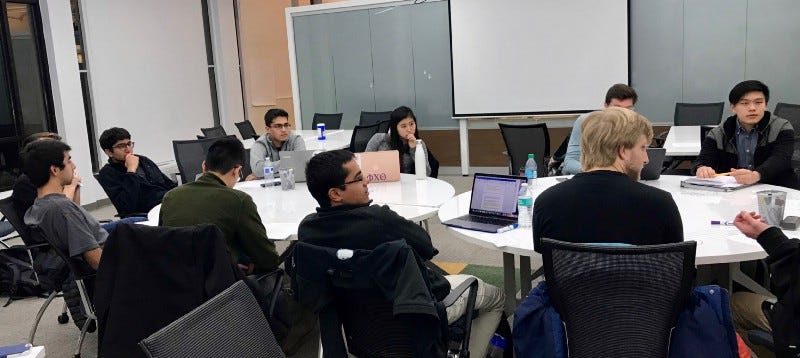 Our first meeting (presentation pictured left, book-club discussion pictured right)
2. Town Halls are events open to the public aimed at educating people about cryptocurrencies and blockchain. Read about our first Town Hall here!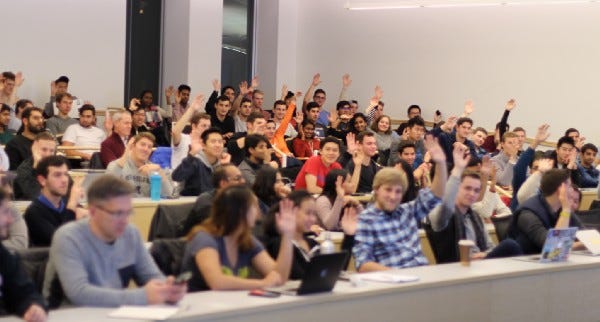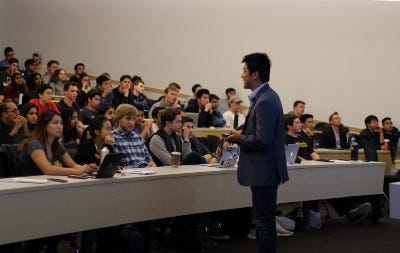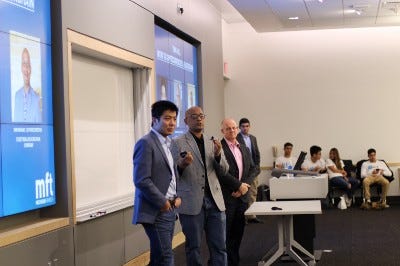 On the left, students who wants to take a new "FinTech Innovations" course. In the center, Professor Andrew Wu explaining blockchain technology. On the right, the three speakers taking questions from the audience.
3. Projects are an independent way for the Wolverine Crypto Trading team to further explore areas of interest. Examples of projects in development are:
Algo-bot: An algorithmic trading bot that uses indicators to trigger automatic trades

Sentiment mapping: Social media sentiment analysis that uses Twitter and Reddit data to measure public feelings toward cryptocurrencies

Portfolio tracking: Record the value of each member's portfolio and aggregate the data to drive insights about successful (and unsuccessful) trading strategies
What's next?
In just 60 days Wolverine Crypto Trading went from an idea to reality. With school winding down for students now, I'm excited for what lies ahead as we reconvene in 2018!
— Danny & the Wolverine Crypto Trading Team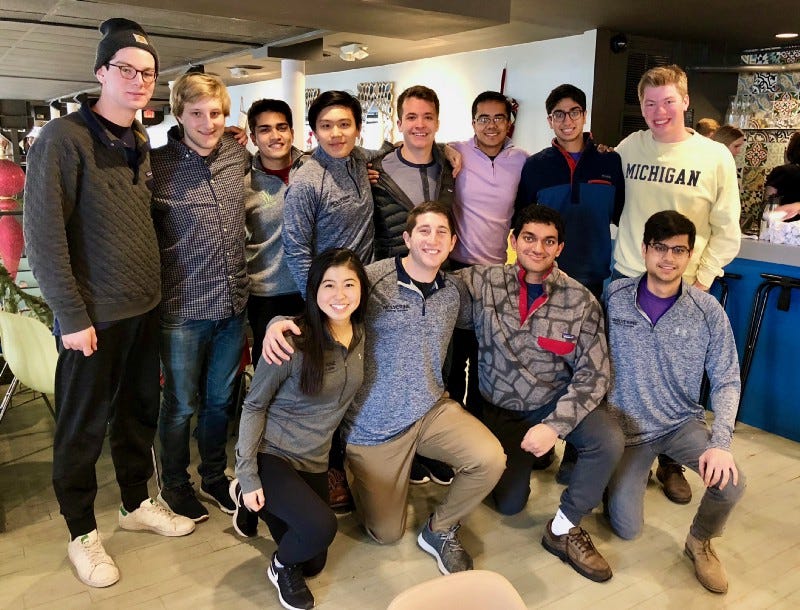 12 of 16 team members after a brunch at Sava's in December 2017

(P.S. The team is headed to Miami, Florida to the North American Bitcoin Conference in January 2018. The North American Bitcoin Conference (NABC) is part of the World Blockchain Forum, one of the world's largest blockchain conferences of the year. Please reach out to connect if you'll be there!)