Discover more from Fact of the Day 1
My journey as a startup founder
Over 38,000 subscribers
July 29: America's first murder trial
Lin Manuel Miranda's "Hamilton" hints at this in the song Non-Stop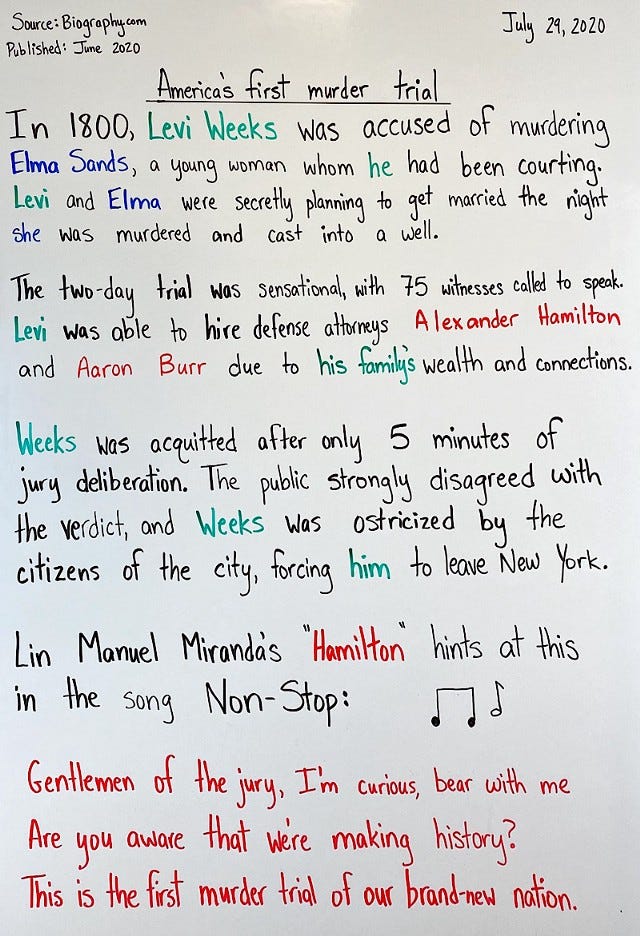 Source: Biography.com
Published: June 2020
America's first murder trial
Circulated: July 29, 2020

‍In 1800, Levi Weeks was accused of murdering Elma Sands, a young woman whom he had been courting. Levi and Elma were secretly planning to get married the night she was murdered and cast into a well.

The two-day trial was sensational, with 75 witnesses called to speak. Levi was able to hire defense attorneys Alexander Hamilton and Aaron Burr due to his family's wealth and connections.

Weeks was acquitted after only 5 minutes of jury deliberation. The public strongly disagreed with the verdict, and Weeks was ostracized by the citizens of the city, forcing him to leave New York.

Lin Manuel Miranda's "Hamilton" hints at this in the song Non-Stop:

‍Gentlemen of the jury, I'm curious, bear with me
Are you aware that we're making history?
This is the first murder trial of our brand-new nation.