Discover more from Fact of the Day 1
My journey as a startup founder
Over 38,000 subscribers
July 22: Recommended for You
Innovation can only come from the bottom.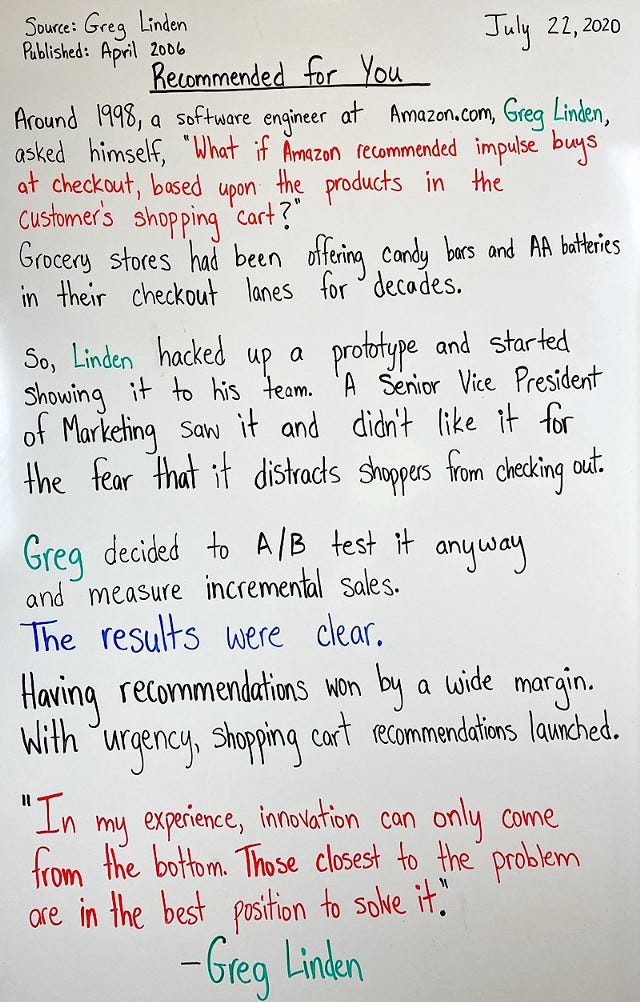 Source: Greg Linden (LinkedIn)
Published: April 2006
Recommended for You
Circulated: July 22, 2020

‍Around 1998, a software engineer at Amazon.com, Greg Linden, asked himself, "What if Amazon recommended impulse buys at checkout, based upon the products in the customer's shopping cart?" Grocery stores had been proffering candy bars and AA batteries in their checkout lanes for decades.

So, he hacked up a prototype and started showing it to his team. A Senior Vice President of Marketing saw it and didn't like it for the fear that it distracts shoppers from checking out. Greg decided to A/B test it anyway and measure incremental sales. The results were clear. Having recommendations won by a wide margin. With urgency, shopping cart recommendations launched.

‍"In my experience, innovation can only come from the bottom. Those closest to the problem are in the best position to solve it." — Greg Linden

Bonus: Read a 2003 industry report about e-commerce recommendations written by Greg.